Fairy Leaf

"Feel like a fairy in this costume, with 2 tones of green and white."

Lucky Color

Card Type

Card Number

008E

LB Style Square Brand

Lovely

Japanese Description

ようせい気分のさわやかコスチュームだよ。2色のグリーンと白の色つかいもポイントだよ。

Taiwanese Mandarin Description

???

First Appearance
Fairy Leaf (TM: 綠葉仙子 (Lǜ Yè Xiān Zǐ)/JP: フェアリーリーフ Fairy Leaf) is one of Dress Up Cards that were introduced in 2004 Fall-Winter Collection/Version 1. It was taken out of the main roster from 2005 Winter Collection/Version 5 onwards but returns back in Best Collection being in the 45th rank. This card may be included in one of the ~DS Collection~ Official Card Packs.
After the cease of Oshare Majo and Version 12 finished circulation, Fairy Leaf returns into the main roster starting Version 13 Classic (Which was the re-release/remake of Version 1).
Availability
Japanese Collections
International Versions
Others
Etymology
Japanese
Fearī (フェアリー): The Japanese Katakana transliteration of the English word Fairy, which is the concept of the outfit, as evidenced by the wings and design.
Rīfu (リーフ): The Japanese Katakana transliteration of the English word Leaf, which refers to some parts of the outfit that imitates the leaf's look.
Taiwanese Mandarin
Lǜ Yè (綠葉): The term literally means Green Leaves, or interpreted as Foliage. This describes some parts of the outfit looking like leaves.
Xiān Zǐ (仙子): Equivalent to Celestial Being, or commonly translated as Fairy.
English
Fairy Leaf: The name of the card is identical to the Japanese version.
Trivia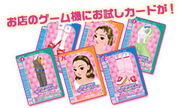 Gallery
Voice
Love
Berry
Gameplay
International
"Hmm.. I call this fair. Is this going to be okay?"
This gallery is missing the card variations from the following version/collection(s): Version 3/15 Classic, Version 4/16 Classic. If you can get a high quality scan or an image from any of the archived Love and Berry sites (excluding the mini images), please add them to the gallery.
Japan
Community content is available under
CC-BY-SA
unless otherwise noted.