"ハ~イ わたし、ラブ!"
This article is about something that is only available in Japan, and not officially available in English, Chinese, Korean, or any other international version. Many of the names used are either (unofficial if unavailable but applicable) official transliterations or romaji.
If you're looking for A007 (Mighty Uyun) and A008 (Twinklin' Crown), here: A007 and A008.
The Finale Collection, or referred as 2008 Autumn Collection is the sixteenth and last card collection of Oshare Majo Love and Berry. It was released in 29th August 2008, and has no official English counterpart.
Card design
Back
Front
Primp Up Cards
Official checklist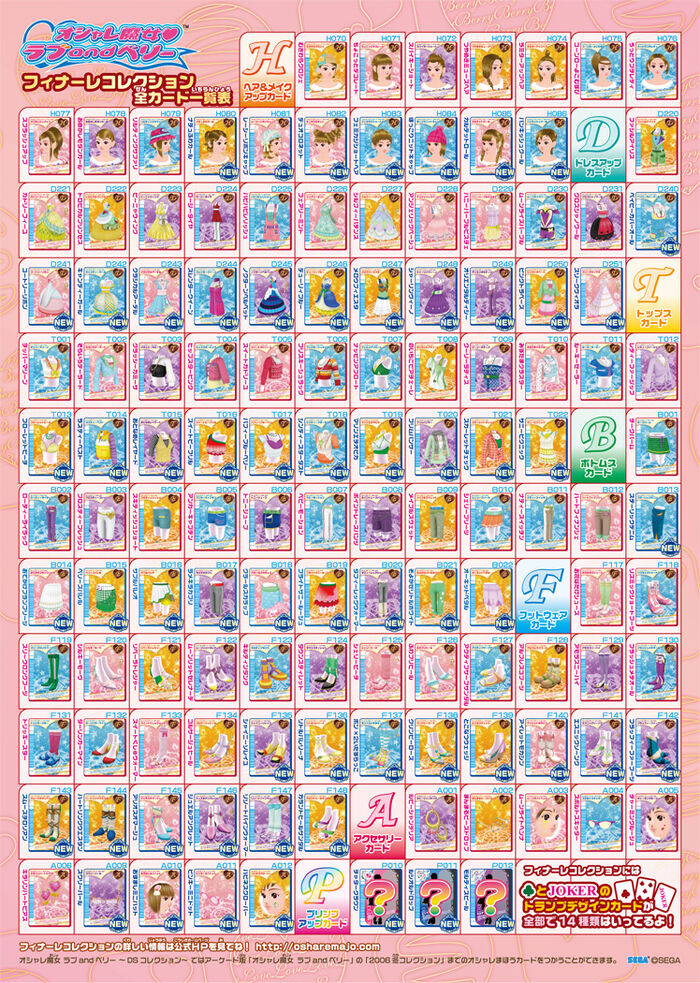 Cards
New Cards
#
Image
Name
Description
Lucky Color
80
ナチュふわカール
(Nachufuwa Curl)
ちょっぴりくせ毛風のゆる~いウェーブがポイント!キメすぎないやわらかふんいきが上級オシャレテクだね。

(English Translation: These loose waves are the highlight of this slightly curled hairstyle! Just the right amount of softness to bring fashion tech to the next level.)

Yellow (Love)
Blue (Berry)
Black (Miesha)
81
レーシーリボンキャップ
(Lacy Ribbon Cap)
レースとリボンのロマ系キャップだよ。オトメパワーぜんかいのスイートコーデでだれよりもかわいく!

(English Translation: Romantic-styled cap with ribbons and laces. Full maiden power within this sweet style is a lot cuter than any other!)

White
82
デュオコロネット
(Duo Coronet)
ていばんおだんごヘアもちょいアレンジでキュートにレベルアップ!オシャレなはっけんたのしいね。

(English Translation: Ordinary buns and slight styling to level up the cuteness! Quite fun to discover a new style.)

Yellow (Love)
Blue (Berry)
Black (Miesha)
83
フェミカジショートヘア
(Femikaji Short Hair)
カジュアルなラフさがかわいさのひみつ!みじかめバングスがキュートな目もとをきょうちょうしてくれるよ。

(English Translation: Rough casual look is the secret to cuteness! These short bangs accentuate your cute eyes.)

Yellow (Love)
Blue (Berry)
Black (Miesha)
84
ほっこりニットキャップ
(Hokkori Knit Cap)
ニットキャップは冬のおしゃれのマストアイテムだよ。あったかオシャレでさむい日だってへっちゃらだね。

(English Translation: Knit caps are a must-have item for winter fashion. It's cool for a warm style even on cold days.)

Pink
85
カルテットロール
(Quartetto Roll)
ドーリーなふんいきならたてロールできまり。フリ×2ドレスをまとってスイートプリンセスをきどっちゃお。

(English Translation: For a dolly feel, ringlet curls are the perfect choice. Look like a sweet princess by donning a frilly dress.)

Yellow (Love)
Blue (Berry)
Black (Miesha)
86
パンキッシュクール
(Punkish Cool)
ちょいハードなロックテイストがしんせんだね。カッコイイ系のコーデでキメればきぶんはミュージシャン♪ 

(English Translation: This ultra hard rock taste looks really fresh. You'll feel like a musician if you go for the cool style♪)

Yellow (Love)
Blue (Berry)
Black (Miesha)
Returning Cards
#
Image
Name
Description
Lucky Color
70
むぎわらクロシェ
(Mugiwara Croche)
オシャレでレトロなカントリーガールはいかが?キュートなおさげヘアもぼうしとベストマッチだね。

(English Translation: How about dressing up as a retro country girl? Cute pigtails certainly goes well with the hat.)

Green
71
ちょこっとデコレート
(Chokotto Decorate)
ストレートヘアでせいそなお姉さんにへんしん!サイドのコサージュちびおだんごでかわいさプラスだよ。

(English Translation: Look like a fresh girl with this straight hair! More cute with a mini corsage bun on the side.)

Yellow (Love)
Blue (Berry)
Black (Miesha)
72
スパイキーショート
(Spiky Short)
リーゼント風がかっこいいショートヘアだよ。ワイルドスタイルでオシャレのニューウェーブつくっちゃお。

(English Translation: Cool short hair in pompadour style. Turn this wild style into a new-wave trend.)

Yellow (Love)
Blue (Berry)
Black (Miesha)
73
つやめきミューズヘア
(Tsuyameki Muse Hair)
しっとりイノセントなふんいきが神話の女神さまみたい。しんぴてきなみりょくにみんなくぎづけまちがいなし。

(English Translation: There's something innocent and serene going on with this mythical goddess look. No doubt that its mysterious charm will get everyone's attention on you.)

Yellow (Love)
Blue (Berry)
Black (Miesha)
74
ラミターアップヘア
(La Mitad Up Hair)
すっきりハーフアップでさわやかスタイルがいいね。サーフガールを気どって元気に太陽の下へレッツゴー!

(English Translation: A fresh half-updo in style looks really good. Head out under the sun and show some surfer girl vibe!)

Yellow (Love)
Blue (Berry)
Black (Miesha)
75
コーンローよこむすび
(Cornrow Yoko Musubi)
レゲエちっくなアレンジにちょうせん!ぴっちりあみこみとふんわりサイドポニーでニュースタイルのできあがり。

(English Translation: Go for a reggae-ish styling! Just some tight braids and a flowy side pony to complete a new style.)

Yellow (Love)
Blue (Berry)
Black (Miesha)
76
うっとりプチレディ
(Uttori Puchi Lady)
たてロールでおさげヘアもレディのなかまいり。スイートコーデに合わせたお上品ガーリーがいいかも。

(English Translation: Pigtails with ringlets are a part of being a lady too. A classy girlie look and sweet style mix might work.)

Yellow (Love)
Blue (Berry)
Black (Miesha)
77
スプラッシュアップ
(Splash Up)
ハデコーデにぴったりなヘアだよ。ボリューミーなアップスタイルが、はなやかでみりょくたっぷりだね。

(English Translation: The ideal hairstyle for any flashy combination. This volumized upstyle looks really gorgeous with ample of glamors.)

Yellow (Love)
Blue (Berry)
Black (Miesha)
78
おめかしモダンガール
(Omekashi Modern Girl)
しっとりオトナ系ならタイトなショートがおすすめだよ。レトロモダンでおじょうひんレディのなかまいりだね。

(English Translation: If you're going for a soft grown-up style, then this tight short hair is just for you. A mix of retro modern and elegant lady style.)

Yellow (Love)
Blue (Berry)
Black (Miesha)
79
リルティングサファリ
(Lilting Safari)
サファリぼうしでアクティブコーデはおてのもの。わく×2モードでまちかどオシャレたんけんにレッツゴ→

(English Translation: A safari hat with sporty combo makes a strong point. Have a street fashion expedition with some thrilling music!)

Red
Trump Design Cards
#
Image
Name
Description
Lucky Color
13
モンキーショートヘア
(Monkey Short Hair)
クールなコーデにもピッタリ合うヘアだね。グリーンメイクでさわやかこうかアップ☆

(Official English: Perfect hairdo for a cool style. Look fresh with green-toned makeup!☆)

Yellow (Love)
Blue (Berry)
Black (Miesha)
02
さわやかポニーテール
(Sawayaka Ponytail)
スポーティーコーデにも合うさわやかヘアだね。まえがみはよこにながして今風に。

(Official English: Fresh hairdo that matches the sporty style. Look trendy with bangs off to the side.)

Yellow (Love)
Blue (Berry)
Black (Miesha)
46
おさんぽニット
(Osanpo Knit)
ワンコもようのカラフルニットで気分もウキウキしちゃうねっ。オシャレさんならピンバッジづかいも楽しんじゃお♪

(Official English: This colorful knitted hat with a cute dog design will brighten up any day. Match it up with a badge if you really want to have fun.)

Red
07
たてまきガーリーヘア
(Tatemaki Girly Hair)
おじょうさまっぽいたてまきカールとふんわりしたピンクメイクがちょ~かわいいよね!

(Official English: Look super cute with girlie long curls and airy pink makeup!)

Yellow (Love)
Blue (Berry)
Black (Miesha)
Removed Cards
#
Image
Name
Description
Lucky Color
09
げんきっ子ヘア
(Genkikko Hair)
上下の2つむすびが元気に見せるポイントだよ。オレンジチークとほっぺのハートでいたずら気分!

(Official English: The top and bottom tails are key to lookin' cheerful. Put on orange blush and a little heart on the cheek to feel spunky.)

Yellow (Love)
Blue (Berry)
Black (Miesha)
19
ぱつんとバングスヘア
(Patsuno Bangs Hair)
みじかめにそろえたバングスで目ぢからアップだよ!なにげなよこむすびが今どきだねっ。

(Official English: Show off the eyes with short bangs! Hair tied to the side is also lookin' very in.)

Yellow (Love)
Blue (Berry)
Black (Miesha)
12
ポンパドールショート
(Pompadour Short)
おおきめポンパドールと外ハネヘアでカジュアルモードぜんかい☆ボーイッシュになりすぎないのが◎

(Official English: Casual mode to the max with big pompadour and flipped hairdo! Looking not too boyish is just right.)

Yellow (Love)
Blue (Berry)
Black (Miesha)
16
ふんわりセミロング
(Funwari Semi Long)
ふんわりヘアでしとやかガールをえんしゅつするよ。ゆうめいなえいがに出てきたヘアだよ。

(Official English: Be elegant with a flowy hairdo. This style is from a very famous movie.)

Yellow (Love)
Blue (Berry)
Black (Miesha)
31
モコ×2ラブリーヘア
(Moko x2 Lovely Hair)
トップにある2つのポンポンであまさ急じょうしょう!!かわいくおでこを出してラブリーヘアかんせい☆

(Official English: These cheerful pom-pom-like buns make for a cute, yet dressed up look. The attractive bangs accentuates the eyes and frames the face.)

Yellow (Love)
Blue (Berry)
Black (Miesha)
32
キリっとカウガール
(Kiritto Cow Girl)
キラキラアクセにグッとくるね☆ピリカラコーデのしゅやくにしたら、カウガールきどりでかっこよくキメちゃえ!

(Official English: Very symbolic brilliant turquoise stone in front! Be cool and keep cool in this cowgirl hat. )

Red
39
ツンツンおちゃめヘア
(Tsuntsun Ochame Hair)
やんちゃフレーバーたっぷりのパンク風ヘア。どこから見られてもOKだからおてんばしてもへーきだね!

(Official English: Bring out the rebel punk with this style. Looks great from any angle, so don't worry about letting loose!)

Yellow (Love)
Blue (Berry)
Black (Miesha)
41
キューティーカール
(Cutie Curl)
ながれるカールでかわいさアップ!スイートなドレスと合わせてあま×2にきめちゃお!

(Official English: Up your cuteness with these flowing curls. Why not double it with a sweet dress!)

Yellow (Love)
Blue (Berry)
Black (Miesha)
57
ムーンメモワール
(Moon Memoires)
きゅきゅっとまとめた大きめダンゴはキリっとびじん!きれいなフェイスラインで夏のオシャレにすずやかマッチだね。

(Official English: Stunning beauty comes with this big bun! The way it highlights the face makes it a great choice for summer.)

Yellow (Love)
Blue (Berry)
Black (Miesha)
58
キャメロットヘア
(Camelot Hair)
はなやかアップへアでみんなのしせんをくぎづけ。ボリュームたっぷりのまとめがみにはハートシェイプがかくれてるの。

(Official English: This gorgeous elevated style is sure to attract stares from everyone! No wonder, with all its volume and heart-shaped hairline.)

Yellow (Love)
Blue (Berry)
Black (Miesha)
60
リーピンガール
(Leapin' Girl)
ぴょん×2とびはねてる毛先がめちゃキュート!2色使いのアイシャドウはおしゃれじょうきゅうしゃだね。

(English Translation: These hair tips bounce around so cutely! The two-tone eyeshadows really heighten up your fashion sense.)

Yellow (Love)
Blue (Berry)
Black (Miesha)
62
おてんばちびだんご
(Otenba Chibi Dango)
ぴょこぴょこ毛先をあそばせたおてんばムスメのオシャレヘア。おだんごまとめでアクティブOK☆

(English Translation: A grown-up tomboyish hair's airy tips makes you want to not miss out the fun. Perk it up with double buns☆)

Yellow (Love)
Blue (Berry)
Black (Miesha)
New Cards
#
Image
Name
Description
Lucky Color
240
ベイビーカバーオール
(Baby Coverall)
赤ちゃんみたいなつなぎがちょ→キュート!すずしげな水色ストライプで町へくり出しちゃお☆

(English Translation: This baby-like coverall is strikingly cute! Head out to town with those cool-looking light blue stripes☆)

Blue

Yellow

241
コートリーリボン
(Courtly Ribbon)
むねのリボンがポイントのキュートなピンクドレスだよ。ドレスにまいちる白いリボンでプリティーレディになれちゃうね!

(English Translation: The ribbon on top is the accent of this cute pink dress. The white ribbon on the dress really turns you into a pretty lady as if it's fluttering down!)

Red

Pink

242
キャンディーガール
(Candy Girl)
まんまるスカートがキャンディーみたいなドレスだよ!水玉×チェックだって色を合わせればマッチしちゃうよ☆

(English Translation: Round skirt like a candy in a dress! Mixing the colors from polka dots and check just meshes it well☆)

Green

Blue

243
クラシカルアーデル
(Classical Adel)
フリルたっぷりブラウスはきぞくのおじょうサマみたい。すそをつまんできどったら3だんレースのお出むかえ!

(English Translation: Frilly blouse give a high class lady look. Show off by holding up the hem and the three-layered lace will just meet along♡)

Blue

Pink

244
スレンダークイーン
(Slender Queen)
タイトなワンピはハデ色で目立っちゃお!太めラインのストライプでスタイルバツグンに見えちゃうかも♪

(English Translation: Stand out from the crowd in bold colors from this tight one-piece! Those thick stripes could really look great in style♪)

Purple

Pink

245
ノクターンベルベット
(Nocturne Velvet)
ふかい青のベルベットドレスはこうきな女王さまきぶんだね。ゆうがにひろがるドレープに夜のしらべがきこえそう。

(English Translation: This deep blue velvet dress really feels like a noble queen. You can even hear the night melody from the drapes spreading out in elegance.)

Blue

Black

246
デューリィブルー
(Duly Blue)
ツユクサの花をイメージしたさわやかブルーのドレスだよ。ぴょこっとハネたスカートのはしゃいだ感じがかわいいね。

(English Translation: Fresh blue dress inspired by the asiatic dayflower. Joys coming from the flouncy skirt is very much endearing.)

Blue

Green

247
メロウフィエスタ
(Mellow Fiesta)
おさんぽにはミントグリーンのタンクトップがぴったり!やさしいふんわりスカートでお花つみに行きましょ。

(English Translation: For a stroll, this mint green tank top will be perfect! Head outside with a soft flowy skirt and pluck some flowers.)

Green

White

248
シャーリンヴィーノ
(Shirrin' Vino)
クシュクシュワンピはやわらかくてとってもかろやか。後ろのリボンをふわっとゆらしておどっちゃお♪

(English Translation: This ruffled one-piece is soft and especially light. Sway airily with the ribbon on the back♪)

Purple

White

249
オリエンタルディシー
(Oriental Desi)
ちょ→セクシーなアラビアンガールのとうじょうだよ!タイトなトップスにはボリューミーパンツがマッチ!

(English Translation: Super sexy arabian girl has arrived! The tight top really coordinates well with the volumized pants!)

Purple

Red

250
ピンクトラペーズ
(Pink Trapeze)
お花とチェックのキュートコンビでラブパワーUP。ほんめいピンクはおさえておきたいアイテムNO.1だね。

(English Translation: Love power up with the cute flower and check combination. You would really want to keep this favorite pink of choice.)

Pink

Green

251
スリークヴィオラ
(Sleek Viola)
シルキーなつやめきドレスにジュエリーししゅうがきらめくよ。上品なすみれ色がレディのよそおいにピッタリね。

(English Translation: The embroidered jewelry on the shiny and silky dress sparkles. Elegant violet color is really great for a lady's dress.)

Purple

Yellow
Trump Design Cards
#
Image
Name
Description
Lucky Color
254
ルミナリーガール
(Luminary Girl)
サテントップとシルバーデニムのシャイニーコーデできらめきチャージ!さし色はショッキングピンクでガーリーに。

(English Translation: Full glitter with this shiny coordinated satin top and silver denims! Be girlie with this shocking pink accent.)

Pink

Black

252
スキティッシュガール
(Skittish Girl)
カジュアルシャツもみじかめにむすべばおてんばガール!ミニスカもギンガムチェックで元気いっぱいだね。

(English Translation: You'll be like a tomboy when you tie the casual shirt up short! Gingham check on the skirt is very full of life too.)

Red

Green

253
コージーアプリコット
(Cozy Apricot)
あったかオレンジアウターにレースつきデニムでほんわかコーデ。おだやかムードのいやし系ガール♪

(English Translation: Warm orange outerwear and lacy denim for a comfy look. Feels refreshing with this peaceful vibe♪)

Red

White

255
ポリールコンセール
(Polir Concert)
ステージヒロインにふさわしいきらびやかなドレスだね。スポットライトをうけながらすてきな音楽かなでるよ。

(English Translation: A gorgeous dress befitting for the main heroine. Play a lovely music while you're still under the spotlight.)

Pink

Red
Secret Cards
#
Image
Name
Description
Lucky Color
N/A
エレガントドレス
(Elegant Dress)
大人チックなゴージャスドレスのカードだよ!つやめくパールと金のししゅうがリッチさプラスだね。

(English Translation: It's a card featuring a beautiful dress with grown-up sophisticated look! Shiny pearls and golden embroidery adds a little depth of richness.)

Purple

Black

N/A
すずやかバケーション
(Suzuyaka Vacation)
ゆかたみたいな和風ドレスのカードだよ!色あざやかなきんぎょもようが女の子らしくてキュートだね。

(English Translation: It's card featuring a Japaneseque dress in yukata style! The vibrant goldfish design really gives off a cute girlie vibe.)

Red

Yellow
Returning Cards
#
Image
Name
Description
Lucky Color
220
ファシルアイリス
(Facile Iris)
グリーンがりりしいセットアップでクールガール。かたほうだけの大きなエリはシャープなムラサキでひきしめて☆

(English Translation: Look like a cool girl in this awe-inspiring green setup. Brace it up with sharp purple just on the other side of the wide collar☆)

Green

Purple

221
カドリーフィーユ
(Quadri Feuille)
やわらかいレースにつつまれたゆめいっぱいのひらふわドレス。ウエストをかざるハートアクセがラブリーね。

(English Translation: Dreamy and fluttery downy dress wrapped in soft laces. The heart accessory decorating the waist looks very lovely.)

White

Blue

222
トロピカルプリンセス
(Tropical Princess)
はなやかさまんてんのカラフルドレスでハッピースタイル。あざやかなトロピカルフラワーに目うつりしちゃう。

(English Translation: Flowers are happily styled all over this colorful dress. Those beautiful tropical flowers really draw attention.)

Yellow

Green

223
ピーニャウィンク
(Pigna Wink)
キュッとむすんだリボンはパールが付いててとってもゴージャス☆えいがの女ゆうさんみたいなワンピースだね。

(English Translation: Fitted tied ribbon looks very gorgeous with the pearls added☆ It looks like the one-piece of a movie actress.)

Yellow

Purple

224
ロージーダイヤ
(Rosy Dia)
目をひくまっ赤なワンピはホワイトパンツとあいしょう◎ゴールドアクセをプラスすればゴージャスになっちゃうね。

(English Translation: Striking crimson one-piece with white pants make a great match. Add gold accessory and it will look gorgeous.)

Red

Black

225
ハピハピレリッシュ
(Hapihapi Relish)
キュートなおようふくはハッピー気分になっちゃうね☆さわやかストライプのキャミで元気におどっちゃお。

(English Translation: This cute western-style clothing will have you smiling☆ Dance energetically in this fresh striped cami.)

Purple

White

226
フェアリーミント
(Fairy Mint)
げんそうてきなみどりのレースでフェアリーきぶん。キラ×2ジュエルのかがやきにゆめのせかいへさそわれそう。

(English Translation: These fantastical green laces have a fairy feel to it. The sparkly jewel seems like it's inviting you to the dream world whenever it shines.)

Green

Yellow

227
シルフィーパテンス
(Sylphy Patents)
ひら×2の花びら風ドレスでファンタジックなおひめさま。ロマンティックなキレイ色グラデーションにうっとりしちゃう。

(English Translation: Look like a fanciful princess in this fluttery flower petal-styled dress. The lovely romantic color layers will have you spellbound.)

Green

White

228
アンジェリックペーシュ
(Angelic Peche)
ピーチカラーにまっ白リボンのピュアさがキュート。せなかに大きなリボンをつけてゆめみるエンジェルかんせいよ!

(English Translation: The peach color and pure white ribbons are cute. Top off a big ribbon at the back and the dream angel look is completed!)

Red

White

229
ハニーパープルビスチェ
(Honey Purple Bustier)
キュキュっと&ひらふわのプリンセスラインがプリティね。はちみつ色のリボンベルトでスイートコーデのトッピング!

(English Translation: These soft and frilly princesslike lines are so pretty. A honey-colored ribbon belt as the topping for a sweet look!)

Pink

Yellow

230
ムーンライズパープル
(Moonrise Purple)
シャープなシルエットとあみ上げたせなかがセクシーだね。パワーのみなもとはきいろのちょうちょなの!

(English Translation: A sharp silhouette with laced-up back is really sexy. The yellow butterfly is the key to power!)

Purple

Black

231
グロスシャノワール
(Gloss Chat Noir)
つややかサテンのパーティードレスで小アクマ風スタイルに。ネコのシルエットがセクシー&キュートだね。

(English Translation: Glossy satin party dress with a little bit of devil twist. The cat figure looks very sexy and cute too.)

Red

Black
Removed Cards
#
Image
Name
Description
Lucky Color
166
スナッピーガール
(Snappy Girl)
スポーツスタイルなのに女の子シルエットが新しい!青空カラーがクールにきまるひけつだよ!

(Official English: A new take on the classic sporty girl look! The sky blue hue will have you always looking cool.)

Blue

Purple

167
サンリットイエロー
(Sunlit Yellow)
マリンブルーに元気なヒマワリ色があざやかにマッチ!ナチュラルストーンのアクセがたのしさMIXしてくれるよ。

(Official English: The sunflowers go brilliantly against the marine blue color of this skirt! Works great with any natural stone accessory.)

Blue

Yellow

170
ティンカーストライプ
(Tinker Stripe)
ストライプTシャツ×デニムでベースボールクイーン☆アクティブにきめればめちゃクールだね!

(Official English: The striped t-shirt and denim pants make you the baseball queen. The wristwatch is totally cool too!)

Pink

Purple

174
ボニーバンビーナ
(Bonny Bambina)
ちょ→キュートなセットアップ!ガールズパワーぜんかいでみんなの注目ダンサーになれちゃうよ!

(Official English: This totally cute tracksuit screams girl power. You'll be the dancer everyone's talking about!)

Pink

Blue

177
レーシーカスケード
(Lacy Cascade)
ゆうがなレースづかいでだれよりかがやくプリンセス。ロマンティックなペールカラーでおしとやかさにみがきをかけて。

(Official English: The elegant lace will have you shining above everyone like a princess. The romantic pale color is pure class.)

Green

White

182
サンシャインレッド
(Sunshine Red)
アシンメトリーなそでをキュートにキメればじゅんびOK。にじをつかみにお空のせかいへレッツゴー!

(English Translation: Cuten up that asymmetrical sleeve and you're all set. Let's soar up into the world of sky and reach the rainbow!)

Red

White

183
スターナイトブルー
(Star Night Blue)
タイトなシルエットとちょっぴりのぞくせなかがちょークール。ながれ星のかがやきでスーパーガールにへんしん!

(English Translation: Tight silhouette with a slight peek-a-boo back looks really cool. Become a supergirl with the shooting star's radiance!)

Blue

Purple

186
アミラフェリーク
(Amila Feerique)
はしゃいだミニたけスタイルもお花のアクセでラブリーに。オリエンタルなふんいきでステキなロマンス見つけちゃお!

(English Translation: Look lovely in the cheerful mini-length style with flower accessories. You'll find a wonderful romance with this oriental mood!)

Green

Purple

187
ホルティシェーネ
(Horit Schone)
おとぎの国からやってきたおひめさまみたいなドレスだよ。ひらひらスカートでダンスパーティーにいかなくちゃ!

(English Translation: This princess-like dress looks like it just came out from fairyland. With the fluttering skirt, head out to the dance party!)

Green

Pink

192
ルーシーアルテミス
(Lucie Artemis)
キレイめブルーにかさなったフリルボレロのひらふわスタイル。しんぴてきな光の中ですてきなゆめをいろどるわ。

(English Translation: Frilly bolero over beautiful blue in fluttery downy style. Color the wonderful dream of yours in the mystical light!)

Yellow

Blue

202
ヘイゼルストライプ
(Hazel Stripe)
ヴィンテージパンツはアースカラーとあいしょうバッチリ!たてながラインを見せつけてスレンダーなレトロガール。

(English Translation: Vintage pants looks great with earth colors! Those long stripes shows off a slim retro girl.)

Black

Green

206
シェリーフルール
(Cheri Fleur)
バラとリボンをおおきくかざったゆめみるオトメのあこがれドレス。ふんわりシルエットがどこまでもキュート!

(English Translation: A fantasy dress largely adorned with roses and ribbons are a girl's dream. The fluffy silhouette still looks cute all around!)

Pink

Green

232
スマーティーワンピ
(Smarty One-Pi)
たくさんきりかえがあるオシャレなワンピースだよ。ステップに合わせてゆれるフリルで気分もハッピー♪

(English Translation: Stylish one-piece with lots of modification. You'll also feel happy with the frills dancing along the steps♪)

Blue

Yellow

233
チアリーワッフル
(Cheery Waffle)
おやつに食べたワッフルみたいなワンピだね。ウェイトレスさんになった気分でいらっしゃいませー♪

(English Translation: This one-piece really looks like an eaten waffle from an afternoon tea. Greet people as if you're like a waitress♪)

Yellow

Blue

234
メイティガール
(Matey Girl)
はきはきしたグリーンでフレッシュガールいっとうしょう。ヘルシーカラーをチョイスしてフレンドリーにえんしゅつ!

(English Translation: Bright green gets you a blue ribbon for being the freshest girl. Choose a healthy color to show a friendly side of yours!)

Green

White

235
イノセントビーノ
(Innocent Vino)
スカートには何ひきのパンダがかくれてるのかな!?和風カラーでゆかたドレスみたいだね。

(English Translation: How many pandas are hiding in the skirt, I wonder? It looks like a yukata dress in Japanese-style colors.)

Red

Blue

236
フィリージャージ
(Filly Jersey)
ボーイッシュなジャージすがたもピンク色なら一気にガーリー♪ラッキーナンバー'6'で気合じゅうぶん!

(English Translation: If you wear the boyish jersey in pink too, it'll be all girlie♪ This lucky number '6' will bring a fighting spirit in you!)

Pink

White

237
メリリーホリデー
(Merrily Holiday)
シンプルスタイルならハデ色コーデでとにかく目立っちゃお!まきスカートのボタンがポイントだよ。

(English Translation: Stand out in bold-colored combo with a simple style! The wrap skirt's buttons are the accent.)

Pink

Green

238
パッショネイトハニー
(Passionate Honey)
まっ赤なトップとミツバチもようでじょうねつてきなサマーガール。とろけそうなねつしせんでハートをゲット!

(English Translation: Look like a passionate summer girl in this crimson top and honey bee pattern. Capture some hearts with such charming fiery eyes!)

Black

Yellow

239
クラップハーヴェスト
(Clap Harvest)
ハンドクラフトとりいれたほのぼの気分のカントリードレス。明るい日ざしをうけながらたのしさいっぱいみのらせて☆

(English Translation: Warm country dress introduced by handcraft. Show how much fun you can be when embraced by the bright sun rays☆ )

Black

Red
New Cards
#
Image
Name
Description
Lucky Color
135
シャイニーソレイユ
(Shiny Soleil)
オトナかっこいいヒールローファーだよ。パンツスタイルにあわせてキリッとからめなコーデをたのしんで。

(English Translation: Stylish heel loafers for grown-ups. Take time to coordinate the pants' style for a sharp and hot look.)

Yellow
136
リトルバレリーナ
(Little Ballerina)
足首リボンがおしゃまなバレエシューズ風ミュールだよ。てんとう虫のブローチでハズした感じがかわいすぎっ!

(English Translation: Ballet-styled mules with grown-up ribbons at the ankles. It feels too irresistibly cute when you detach the ladybug brooches!)

Yellow
137
ポン×2いたずらっこ
(Pon x2 Itazurakko)
はくだけで楽しくなっちゃいそうなにぎやかシューズだよ。ポップにまとめて気分アゲ×2でいこっ↑

(English Translation: You would want to have fun in these zippy shoes by simply wearing it. A mix of pop for joy to go with!)

Pink
138
クリンピーローズ
(Crimpy Rose)
クシュっとしたバラの花が4つきれいにならんでるよ。シルバーのつま先&ヒールがダンスするたびキラリ光るよ☆

(English Translation: These scrunchy roses are nicely lined up in four. The silver heels and toes just shine whenever you dance☆)

Yellow
139
とこなつウェッジ
(Tokonatsu Wedge)
夏のオシャレは南国テイストがいいね。メッシュとコルクソールのすずやかコンビでサマーガールのできあがり!

(English Translation: Southern style are just excellent for summer fashion. A cool combo of meshes and corks soles will have you look like a summer girl!)

Purple
140
アイレットモカシン
(Eyelet Moccasin)
白とピンクでイチゴミルクみたいなかわいいブーツだね。ゆら×2フリンジであしもとオシャレにぬかりなし!

(English Translation: The white and pink in these cute boots really look like strawberry milk. You can't miss these stylish shoes with the fringes dancing!)

White
141
エスニックソーング
(Ethnic Thong)
たくさん付いたほうせきがゴージャスだね☆足首ストラップがあればサンダルだってかんたんにステップできちゃうよ!

(English Translation: Lots of added jewels are indeed gorgeous☆ You'll be able to move easily in these sandals thanks to the ankle straps!)

Green
142
フラッフィーファーブーツ
(Fluffy Fur Boots)
ファーとゴールドチャームがプチゴージャスだね。スリットには足を長くみせてくれるこうかがあるよ。

(English Translation: The fur and gold charms here really look a little beautiful. Those silts has that effect of making your legs look longer.)

Blue
143
スムースチロリアン
(Smooth Tyrolean)
あったかファーが付いてるから足もとホッカホカ!お花がらのチロリアンテープがかわいいね。

(English Translation: Your legs will warm up, since these come with warm fur! The floral Tyrolean tapes are really cute.)

Green
144
ハートリングウエスタン
(Heart Ring Western)
ハートリング&みつあみかざりがガーリッシュだね。カジュアルにはきこなせばオシャレセンス◎だよ。

(English Translation: The heart rings and braid ornaments are looking very girlish. You have great fashion taste if you put on casually well.)

Blue
145
アリオスオマージュ
(Arios Hommage)
クラシカルなお上品スタイルにぴったりなくつだよ。コサージュがチョイあまアクセントでガール度UPだね☆ 

(English Translation: Perfect shoes for a classic elegant style. The corsage is for a slightly sweet accent to up the femininity.)

Blue
146
ジュエルアンクレット
(Jewel Anklet)
うっとりしそうなキラ×2ジュエリーのパーティーヒール。めいっぱい着かざってはなやぐじかんをすごしたいね。

(English Translation: Party heels with sparkly charmlike jewelries. You want to spend a lot of time dressing up brilliantly with these.)

Purple
147
リゾートバインウォーマー
(Resort Vine Warmers)
アジアンムードなウォーマーがすずしげだね。ほうせきつきのサンダルでちょっとセレブなリゾートタイム♪

(English Translation: Asian mood warmers are totally cool. Look like a celeb for a little while with these bejeweled sandals at the resort♪)

Blue
148
カラントヒールサンダル
(Currant Heel Sandal)
かかとのデザインがめちゃカワなヒールサンダルだよ。カラントベリーの色合いはおねえさんコーデにあいそうね。

(English Translation: Heel sandals with super cute heel design. The currant colors really look good for a grown-up look.)

Green
Returning Cards
#
Image
Name
Description
Lucky Color
117
お花ばたけシューズ
(Ohanabatake Shoes)
ロマ系もカジュアルもこなしちゃうラブリースニーカーだね。ソックスもレースとリボンでかわいくしなきゃ!

(English Translation: These lovely sneakers carry both of the romantic and casual style. The socks have to be cute with laces and ribbons too!)

Green
118
リズミックショートブーツ
(Rhythmic Short Boots)
スニーカータイプのショートブーツはやんちゃなコーデにぴったり。チラみえの★柄ソックスもポップで◎ 

(English Translation: These short sneaker-type boots are perfect for any punky coordination. Peeked star motif socks look pop too.)

Pink
119
スリークロングブーツ
(Sleek Long Boots)
はき口のおりかえしがポイントのシンプルブーツだよ。あいしょうばっちりのミニスカコーデでスタイルびじん☆

(English Translation: Open cuffs are the accents of these simple-looking boots. Look like a beauty with mini skirt for a perfect match☆)

Green
120
シルキーモーヴ
(Silky Mauve)
サイドのゆるなみカットで足もとみりょくてき!やさしいカラーでまとめてしとやかプリンセスになりきっちゃお。

(English Translation: Wavy cut on the sides add a charming quality to your feet! Going with soft tones will have you turn into a ladylike princess.)

Purple
121
リベーラトレジャー
(Ribera Treasure)
かかとのくるりんカールがチャーミング。足みせヌーディーヒールでリゾートオシャレをえんしゅつしちゃお。

(English Translation: The curls on the heels look charming certainly. Show off the resort fashion that are in these striking nudie heels.)

Green
122
ムーンリットセレナーデ
(Moonlit Serenade)
つま先とかかとのきりかえしがオシャレなヒールだよ。フロントの大きなリボンでキュートなインパクトも◎

(English Translation: Stylish heels in contrasting fabrics from heel to toe. The big ribbons on the front make a cute impact too!)

White
123
キルティンダンク
(Quiltin' Dunk)
足首まであるカラフルバッシュだよ。つやつやのキルティングでワンランクUPのスニーカーだね!

(English Translation: Colorful ankle-length basketball shoes. The shiny quilting really upgrades the sneakers!)

Yellow
124
タウンスティレット
(Town Stiletto)
こせいはショートブーツでいつものコーデにスパイスプラス。ピンヒールをはきこなしてグラマラスガールきどっちゃう?

(English Translation: The individuality in these short boots always bring up the spice to the coordinations. Why not be a glamorous girl by dressing up in these stilettos?)

Black
125
シェリーピーチ
(Cheri Peach)
リボンとレースで女の子のみりょくばっちり。ウォーマーにはミニスカコーデがあいしょうばつぐんだよ。

(English Translation: Ribbons and laces perfect a girl's charm. The warmers will look distinctive with a mini skirt.)

Pink
126
ふわフリヒール
(Fuwafuri Heel)
レースいっぱいの女の子ヒールだよ。ステップに合わせてフリ×2レースがかわいく足もとをえんしゅつするよ!

(English Translation: Lady heels with full of laces. Moving in steps with the frilly laces really highlight your cute feet!)

Blue
127
アクティブサーフサンダル
(Active Surf Sandal)
おてんばガールにぴったりのスポーティーサンダルだよ。たのしくおどっておもいっきりはしゃいじゃお♪

(English Translation: These sporty sandals are just perfect for any tomboys. Go dance happily as much as you want to your heart's content♪)

Yellow
128
アルフレスコブーツ
(Alfresco Boots)
アクティブシーンでかつやくしそうなワークブーツでGOGO!ナチュラルカラーでつかいまわしも◎

(English Translation: Go make a scene with these active-looking worker boots! Reusing natural colors is great too.)

White
129
アモラスニーハイ
(Amora Knee-High)
1本ラインのニーハイくつ下が大人っぽいね。キラキラのえりが足首に付いてるみたいなショートブーツだよ。

(English Translation: These one line knee-high socks are looking very much grown-up. The sparkly collars attached to the ankles make it look like short boots.)

Purple
130
フラッシュメテオール
(Flash Meteor)
スペーシーなふんいきのエナメルブーツがとうじょう!きらめく星へうちゅうりょこうに行きたくなっちゃうね。

(English Translation: Spacey enamel boots are on the scene! It really makes you want to go on a space trip to the twinkle stars.)

Purple
131
トリッキースター
(Tricky Star)
スポーティーコーデにはやっぱりスニーカー!めちゃかっこよくキメてみんなのあこがれのまとになっちゃえ。

(English Translation: These sneakers are really meant for sporty combos after all! It's so cool that it becomes everyone's favorite.)

Blue
132
ダーリンカーマイン
(Darlin' Carmine)
丸いつま先がかわいいエナメルパンプだよ。パンチのきいたカラーはシックなコーデのスパイスアイテムになるよ。

(English Translation: Cute enamel round-toed pumps. The punchy effective colors will become a hot asset for any chic combos.)

Red
133
スイートくしゅウォーマー
(Sweet Kushu Warmers)
リボンモチーフのミュールで足をキュートにラッピングしちゃえ!くしゅウォーマーをプラスでとことんかわいくネ。

(English Translation: Wrap around your legs cutely with ribbon motif mules! The scrunchy warmers add a cute final touch at the end.)

Pink
134
コルサージュヒール
(Corsage Heel)
トップの大きなコサージュでプリティーなミリョクをアピールしちゃお。ピンク色のスカラップもめちゃラブリー!

(English Translation: Show off the pretty charm with big corsages on top. The pink scallops are very lovely too!)

Pink
Trump Design Cards
#
Image
Name
Description
Lucky Color
16
レインボースニーカー
(Rainbow Sneaker)
カラフルソックスでスポーティーをきどっちゃお。★アクセつきのくつひもにもおしゃれわざあり!

(Official English: Be sporty with colorful socks. Give a fashionable touch with star shoe laces!)

Purple
08
フラワーくしゅブーツ
(Flower Kushu Boots)
花もようがキュートなくしゅブーツだよ!じょうひんコーデと合わせてあまからMIXが今風だよ。

(Official English: Scrunched boots with adorable flower prints! Match with an elegant style to look trendy in sweet and spicy mix.)

Yellow
61
チッパーラバーソール
(Chipper Rubber Soled)
ボーイッシュなラバーソールでストリートロック。オレンジチェックのソックスで元気にまちにとび出しちゃお!

(Official English: These boyish rubber soles are all about street rock. Match them up with orange-checkered socks for a cool look.)

Red
13
ピンクリボンヒール
(Pink Ribbon Heel)
白のヒールにピンクリボンが2つもついてるよ。めちゃかわアイテムはっけんだね!

(Official English: White heels with 2 pink ribbons. Ultra cute fashion items!)

Pink
Removed Cards
#
Image
Name
Description
Lucky Color
02
カラフルハートソックス
(Colorful Heart Socks)
きまわしOKのカラフルソックスは、足もとおしゃれのきほん。ハートをあわせてキュートだね!

(Official English: Mix-and-matching colorful socks are a fashion basic for footwear. Match the hearts and look adorable!)

Red
06
なでしこトングサンダル
(Nadeshiko Thong Sandal)
アジアン風のトングサンダルはインパクト大!足首にまいたリボンで引きしめこうかもねらっちゃお☆

(Official English: Make a huge impact with Asian thong sandals! Wrap ribbons around the ankles for a slender effect!)

Yellow
36
ビビッドコルクソール
(Vivid Kork Sole)
ビビッドカラーのコルクソールでちょ~夏気分!かかと高めサンダルは足ながさんに見せてくれるよ。

(Official English: Feel the summer in vivid colored cork soles! Sandals with tall heels will make the legs look longer.)

Red
56
ひだまりソックス
(Hidamari Socks)
お日さま色のソックスでうき×2気分になれちゃうね。白スニーカーにオレンジプラスで元気いっぱい☆

(Official English: These socks are bright as sunshine, matched with white and orange sneakers to be extra cheerful.)

White
58
ラセットリーフブーツ
(Russet Leaf Boots)
はっぱもようのカットワークがとくちょうてきなブーツだよ。ブローチつきのくる×2リボンがプチチャーミング。

(Official English: The leaf pattern makes these boots really stand out. The broached ribbons are charming too.)

Yellow
80
ポッペンサボ
(Poppen Sabo)
ぽっこりシルエットがキュートなサボだね。シンプルコーデに合わせたら、メリハリスタイルでオシャレじょうず。

(Official English: These clogs have a cute plump look. Coordinate them with something simple and you'll be looking sharp in no time.)

Blue
92
シフォンセレスティア
(Chiffon Selestia)
つややかパープルでちょっと大人なおひめさま。ふんわりフリルときらめきジュエリーであしもとゴージャス。

(Official English: The glossy purple in these shoes will make you look like a beautiful princess. The light frills and sparkling jewelry make your feet shine.)

Purple
97
サニーガーデン
(Sunny Garden)
おひさまの下をかけまわりたくなっちゃうような元気シューズ。マジックテープだからはきやすさバッチりだね!

(English Translation: These cheery shoes would make you want to run around under the sun. These velcro tapes are easy to put on so it's perfect!)

Yellow
101
ソアリンウィング
(Soarin' Wing)
トレードマークの大きなはねで空をとべちゃうかも!?ミニスカコーデでエナメルブーツみせつけちゃお。

(English Translation: With these big wings trademark, you might be able to soar up to the sky! Show the enamel boots off with a mini skirt combo!)

White
111
チェルクコースト
(Chirk Coast)
シャープなヒールサンダルでググっとクールにきめちゃうよ。かつんとカカトをならしたらみんながふりむくモテガール☆

(English Translation: Be cool with these sharp heel sandals in one go. Clack those ringing heels to get everyone's back turn at you as the popular girl☆)

Pink
112
バニティーレオパード
(Vanity Leopard)
ひょう柄&ルージュレッドはイケイケガールにはずせないカラーだね!あこがれジュエリーでさらにゴージャスに。

(English Translation: Leopard print and rouge red are colors that a confident fashionista cannot miss! Take one step gorgeous further with breathtaking jewelries.)

Red
115
ラウンドMヒール
(Round M Heel)
M字になっているつま先がデザインポイントだよ!おもいきってパンツに合わせるとマッチしちゃうかも。

(English Translation: M-shaped toes are the design point! Try to dare matching it with pants and see if it works well.)

Black
New Cards
Secret Cards
#
Image
Name
Description
Lucky Color
N/A
オシャレクイーン
(Oshare Queen)
オシャレメーターにまほうをかけちゃうカードだよ!キュートなおうかんはオシャレクイーンのあかし!

(English Translation: A card to cast magic onto the fashion meter! A cute crown is the proof of a fashion queen!)

None
N/A
メロディシャワー
(Melody Shower)
カラフルなおんぷがとび出すカードだよ!ノリノリダンスでみんなにハッピーおとどけしちゃお☆

(English Translation: A card for colorful musical notes popping out! Deliver happiness to everyone with a spirited dance☆)

None
Returning Cards
Trump Design Cards
#
Image
Name
Description
Lucky Color
02
オシャレクイーン
(Magical Hair Color)
かみの色をかえちゃうマジカルカードだよ。どの色でコーデする?

(English Translation: Magical Card for hair color change. Which color would you pick for your style?)

Yellow
Purple
Green
Black
13
マジカルライバル
(Magical Rival)
オシャレたいけつのライバルがかえられるカードだよ。あなたはだれとしょうぶするのかな?

(English Translation: A card to switch your fashion showdown rival. Who do you want to battle with?)

None
Removed Cards
#
Image
Name
Description
Lucky Color
01
ミラクルファンデーション
(Miracle Foundation)
はだの色がかわっちゃうミラクルカードだよ。あなたはギャル風でいく?それともガーリー風?

(Official English: Miracle Card for skin tone change. Going for gal style look or girlie look?)

Yellow
White
Black
03
ミラクルヘアカラー
(Miracle Hair Color)
かみの色がかわっちゃうミラクルカードだよ。あなたのおしゃれにはどの色がベストかな?

(Official English: Miracle Card for hair color change. Which color is the best match for your look?)

Red
Pink
Yellow
White
New Cards
#
Image
Name
Description
10
チャタークラウン
(Chatter Clown)
ラブのおすすめコーデにへんしんできるカードだよ。まぁるいスカートととんがりぐつでファニーなピエロきぶん!

(English Translation: Card with a recommended coordination for Love to change into. Feel like a funny clown with this round skirt and pointy boots!)

11
ルシオルドロップ
(Luciole Drop)
ベリーのおすすめコーデにへんしんできるカードだよ。ふんわりスカートとおすましヘアでキュートなようせいきぶん!

(English Translation: Card with a recommended coordination for Berry to change into. Feel like a cute fairy with this flouncy skirt and proper hairdo!)

12
モルティスピール
(Molti Soupir)
ミーシャのおすすめコーデにへんしんできるカードだよ。ひらひらスカートとラブリーヒールでシックなレディきぶん!

(English Translation: Card with a recommended coordination for Miesha to change into. Feel like a chic lady with this fluttery skirt and lovely heels!)
Removed Cards
#
Image
Name
Description
07
サニーディスキップ
(Sunny Day Skip)
ラブのおすすめコーデにへんしんできるカードだよ。ナチュラルガーリーなコーデはキュートガールにおにあいだね。

(English Translation: Card with a recommended coordination for Love to change into. This natural girlie style will definitely look great on cute girls.)

08
サンディーティータイム
(Sunday Tea Time)
ベリーのおすすめコーデにへんしんできるカードだよ。スィートフェミニンなコーデはプリティガールにおにあいだね。

(English Translation: Card with a recommended coordination for Berry to change into. This sweet feminine style will definitely look great on pretty girls.)

09
ホリデーキューイスト
(Holiday Cueist)
ミーシャのおすすめコーデにへんしんできるカードだよ。クールビューティーなコーデはセクシーガールにおにあいだね。

(English Translation: Card with a recommended coordination for Miesha to change into. This cool beauty style will definitely look great on sexy girls.)
New Cards
#
Image
Name
Description
Lucky Color
09
スワリーパール
(Swirly Pearl)
パールとせんさいなかざりの付いたお上品めがね。サイドのチャームがあたらしいオシャレだね☆

(English Translation: Elegant glasses, with pearls and fine decoration. The charms on the side is a new trend☆)

Yellow
10
おすましミニハット
(Osumashi Mini Hat)
すましたカンジがあいらしいバラとリボンのミニハットだよ。おじょうサマ風スタイルのしあげにどうぞ!

(English Translation: Prim and proper feels within this lovely rose and ribbon mini hat. Feel free to complete this ladylike style!)

White
11
ピンキーミニドット
(Pinky Mini Dot)
ピンクに水玉もようがとってもラブリー!ハートをたくさん付けたらキュートな女の子になれちゃうよ♪

(English Translation: Pink and polka dots design are totally lovely! Put on a lot of hearts and you'll just become a cute girl♪)

Pink
12
ハピネスクローバー
(Happiness Clover)
ハッピーになれそうなクローバーペイントでスマイルOK!ガーリーなキュートさがにんきのヒミツ。

(English Translation: Get ready to smile with this delightful clover paint! Looking girly cute is the secret to popularity.)

Green
Returning Cards
#
Image
Name
Description
Lucky Color
01
ルビーシャンデリア
(Ruby Chandelier)
シャラ×2ルビーがそんざいかんバツグンだね。エキゾチックな大ぶりアクセはゴージャスコーデにピッタリよ。

(English Translation: These stylish rubies really have excellent presence. Perfect with any gorgeous coordination for this large-sized exotic accessory.)

Red
02
まんまるビーズドロップ
(Manmaru Bead Drop)
キャンディービーズがいっぱいのポップなメガネだよ。カラフルアイテムをうまくつかえばどんなオシャレもOK!

(English Translation: Pop glasses with a lot of candy beads. It works with any fashion as long as you know how to use the colorful items well!)

White
03
ムーンライトヘンナ
(Moonlight Henna)
目元をいろどるヘナタトゥーがクールなかんじ。オリエンタルなふんいきでひとあじちがったメイクにトライ!

(English Translation: The henna tattoo decorating around the eye looks cool. Try on a slight different taste of makeup for an oriental feel!)

Yellow
04
スポルトスキッタ
(Sport Skitter)
顔にフィットするメガネははげしいダンスでもバッチリ!メタリックそざいがスポーティーだね。

(English Translation: The glasses frame the face perfectly for such fierce dances! The metallic material is very sporty.)

Purple
05
チャーミングルージュ
(Charming Rouge)
リップペイントをほっぺにつけてインパクト大のセクシーメイク。みわくのルージュカラーでクラクラさせちゃえ!

(English Translation: Sexy makeup with lip paint applied on the cheek for a bigger impact. Dazzle everyone with this charming rouge color!)

Red
06
キラリンハートピアス
(Kirarin Heart Pierce)
キラ×2ほうせきにパールがゴージャス☆女の子の大すきアイテムハートとリボンのMIXがうれしいね。

(English Translation: The sparkly jewels and pearls look gorgeous. Girls' favorite mix of hearts and ribbons are sure to please.)

Pink
New Cards
#
Image
Name
Description
Lucky Color
13
フローレットビーチ
(Floret Beach)
ポイントにシンビジュームの花をかざってオトメ度UP。セクシースタイルでかれいにキメるリゾートガール!

(English Translation: Adorning the cymbidium flowers to look more maiden is the key. Look brilliant in this sexy look as the resort girl!)

Yellow
14
ラスティーベスト
(Rusty Vest)
ふかふかのダウンベストがあれば北風だってさむくないね。まぶしいイエローにはえがおがおにあい!

(English Translation: It won't even be cold in the north wind as long as you have this soft down vest. Smile really fits for this bright yellow!)

Purple
15
おとなめレイヤード
(Otoname Layered)
カジュアルなボーダーだってモノトーンならCOOLだね!チラッとはだ見せで大人っぽさぐんとUP↑

(English Translation: Casual borders can really look cool too if they're monotone! A peek of your skin out to show more of that maturity.)

Yellow
16
スイートピーフリル
(Sweet Pea Frill)
スイートピーイメージのやわらかトップではなやかさUPだね。シャイニーな赤いフリルで目立ちまくりっ☆

(English Translation: The soft top with sweet pea image really makes it look more gorgeous. Those shiny red frills are to stand out for a comeback☆)

Red
17
パフィーブルーベリー
(Puffy Blueberry)
むなもとをあけたかさねぎテクが大人っぽいね。ふんわりトップとセクシーニットがナイスなバランス。

(English Translation: Open chest area with layering technique looks really grown-up. Flowy top and sexy knit makes it a nice balance.)

White
18
シンディースターダスト
(Shindy Stardust)
カラフルスターがかわいい半そでパーカーだよ。ハッピーオレンジで気分もアップ↑↑しちゃうね☆

(English Translation: Short-sleeved parka with colorful stars. The happy orange color really livens up the mood☆)

Yellow
19
マリンエチオピカ
(Marine Aethiopica)
シャープなフォルムにかがやく白がオトナのミリョクをきわだたせるね。ワンランク上のオシャレを着こなそう!

(English Translation: The sharp form and radiant white bring all out with the adult glamor. Just wear it like high fashion!)

Green
20
プリムパンサー
(Prim Panther)
ヒョウ柄ストールをラフにまいたらできあがり!やわらかニットカシュクールでやさしいお姉さん風スタイルだよ。

(English Translation: Wrap the leopard print stole roughly and you're good to go! Soft knitted cache-coeur with a gentle grown-up style.)

Green
21
スカーレットチェック
(Scarlet Check)
前あけ&中見せテクはあざやかコントラストがきめ手!ほそみのアクセをチョイスしてスタイリッシュに。

(English Translation: Out open in front and inside reveal for vivid contrast! A slender accessory to choose for a stylish look.)

Red
22
サニーピクニック
(Sunny Picnic)
ギンガムチェックをプラスした5だんフリルがはれやかモード。小花をそえておひさまムスメのできあがり!

(English Translation: Gingham check incorporated in five-layered frills for sunny mode. Dressed with little flowers to complete the bright girl image!)

Yellow
Returning Cards
#
Image
Name
Description
Lucky Color
01
チッパーマリーン
(Chipper Marine)
イエロー&ホワイトボーダーでさわやかガールだよ。まん中のキュートなリボンが女の子のみりょくをUP!

(English Translation: Feel like a fresh girl with this yellow and white border. The cute ribbon in the middle will enhance your beauty!)

White
02
そらいろテーラード
(Sorairo Tailored)
さわやか感いっぱいのそらいろジャケでクリアガール。おそろいのネックドレスでコーディネートはバッチリ!

(English Translation: Look like a clear girl with this refreshing sky blue jacket. The coordination with the matching neck dress is perfect!)

Blue
03
クラッシーカミーサ
(Classy Camisa)
チューブトップにフリルシャツを合わせたモダンスタイル!アクセのかさね付けがオシャレポイントだよ。

(English Translation: Tube top and frilled shirt coordination in modern style! The stack of accessories added to it is what makes a stylish accent.)

Black
04
ヒップスターピンク
(Hipster Pink)
チビアウターのポイントはたくさん付いたワッペンだよ。キュートカラーは女の子パワーのみなもと☆

(English Translation: Short outerwear with plenty of stitched badges as the accent. These cute colors just scream girl power☆)

Pink
05
スイートカドリーユ
(Sweet Quadrille)
バレリーナプリントがかれんなブラウスだよ。ロマンティックテイストをカジュアルにきこなしてセンスアップ。

(English Translation: Lovely blouse with ballerina print. Dress yourself up casually for a more romantic taste.)

Red
06
フリスキーシュラッグ
(Frisky Shrug)
ビタミンカラーのカーディガンで元気100%!おへそを出してノリ×2ダンシング楽しんじゃお。

(English Translation: Be full of energy with this vitamin-colored cardigan! Have fun dancing in high spirits with your belly button out.)

Red
07
ナッピンアフロート
(Nappin' Afloat)
小さなヨットマークで気分はマリンガール☆スポーティーな後ろすがたでダンスもノリ×2になっちゃうね。

(English Translation: The mini yacht logo will have you feeling like a marine girl☆ You would also want to dance merrily with this kind of sporty back.)

Yellow
08
のいちごピアチェーレ
(Noichigo Piacere)
のいちごもようがポイントのアシメスリーブカットソーだよ。ワイルドキュートなアイテムで元気にとびだそー!

(English Translation: Wild strawberry design is the defining point of this asymmetrical jersey sleeve cut. Head it all out with wildly cute accessories!)

Green
09
クーリーラティス
(Coulee Lattice)
さわやかなブルーチェックがポイント!カジュアルトップスもアクセしだいでオシャレ名人になれちゃうよ☆

(English Translation: Refreshing blue check as the design point! With the right accessories for this casual top, you'll just become a fashion master☆)

Blue
10
みずたまクラスター
(Mizutama Cluster)
パステルカラーのみずたまがめちゃキュートなショートジャケット。インナーもフリルでかわいくキメちゃお。

(English Translation: Pastel-colored polka dots in cropped jacket are super cute. The innerwear is also frilly and cute.)

Blue
11
ルーキーセーラー
(Rookie Sailor)
ちょっぴりたけがみじかいセーラー服みたい!思いっきりはじけたくなっちゃうようなスカイブルーでしょ。

(English Translation: Sailor uniform but a slightly shorter look! You'll feel wanting to burst out because of this sky blue color.)

Blue
12
レディーファージップ
(Lady Fur Zip)
フードのファーであったかマジック☆上下からあくファスナーでおへそをチラ見せしちゃうよ。

(English Translation: Fur hoodie with magic warm☆ Opening the zipper from top to bottom will have your tummy poking out.)

Purple
New Cards
#
Image
Name
Description
Lucky Color
13
ステーリックデニム
(Stehlik Denim)
うごきやすさ&かっこよさMIXがちょ→イイ感じ!立体パンツでオンリーワンスタイル。

(English Translation: The comfy and cool mix has that super great feeling going on! One-of-a-kind style for these three-dimensional pants.)

Black
14
おでかけブランプリーツ
(Odekake Blanc Pleats)
まっ白プリーツスカートはせいそなオトメのしょうちょうね。あわい色のレースがついてモテカワラインいっちょくせん!

(English Translation: This pure white pleated skirt is the representation of a tidy girl. The pale-colored lace will make you the cutest girl around!)

White
15
ベリーズバレル
(Belize Barrel)
ぷっくりラインのバレルスカートはウエストシェイプでメリハリびじん☆カラフルビーズもステキだね。

(English Translation: Barrel skirt with puffed line has a waist shape to turn you into an active beauty☆ The colorful beads are very wonderful too.)

Green
16
サプルパレオ
(Supple Pareo)
しなやかになびくパレオスタイルでフェミニンモードON。ななめカットでびきゃくこうかもバツグンね!

(English Translation: Feminine mode on with this fluttery and grace pareo style. The diagonal cut has an effect on your lovely legs looking great too!)

White
17
ラメキラカプリ
(Lame Kira Capri)
お姉さんコーデにはキラ×2&赤いポイントがおきまり。スリムなパンツをかっこよくきこなして!

(English Translation: Sparkly and red accents are for a grown-up look. Wear it cool in these slim pants!)

Black
18
クラールスカラップ
(Clar Scallop)
リボンもようがいっぱいのかわいいスカートだよ。2だんフリルのアンダースカートがオトメなかんじ。

(English Translation: Cute skirt with a lot of ribbon design. The two layer frilled underskirt feels girly.)

Pink
19
ブライトサニールージュ
(Bright Sunny Rouge)
ダイタンなくらいにあざやかな赤とピンクでしせんをゲット!フリルスカートをひらめかせまぶしい光をあびにいこ☆

(English Translation: Get a look with this daringly vivid red and pink! Bathe in the bright light and let the frilly skirt do its own flutter☆)

Pink
20
タフィーレッグウォーマー
(Taffy Leg Warmers)
パンツ+レッグウォーマーならさむくたってだいじょうぶ!黒のラインがスッキリした足をえんしゅつするよ。

(English Translation: You'll be fine in the cold as long as there's pants and leg warmers! The black lines make your legs keep in shape.)

Black
21
そよかぜリトルホワイト
(Soyokaze Little White)
ちょうちょもようがキュートなフリルパンツだよ。かるくステップふめそうなフレッシュグリーンでレッツゴー!

(English Translation: Frilled pants with cute butterfly design. The fresh green color will have you setting out foot with basic steps!)

Green
22
オーキッドペタル
(Orchid Petal)
花びらみたいなスカートにすかしモヨウがカワイイね。レディライクなパープルでなぎさをいろどる花になろ→!

(English Translation: The openwork in the flower petal-like skirt looks really cute. This ladylike purple will have the flowers decorating the beach!)

Purple
Returning Cards
#
Image
Name
Description
Lucky Color
01
チークパーム
(Teak Palm)
細めなベルトもカラーしだいでポイントになるよ。ヤシの木カラーのスカートで元気いっぱいレッツダンシング!

(English Translation: This thin belt will just become an accent no matter what the color is. Let's dance happily in this tree palm-colored skirt!)

Black
02
ローティーライラック
(Rorty Lilac)
大人っぽいスタイルにはむらさきパンツが一番!ベルボトムだから足もながく見えてラッキー。

(English Translation: These purple pants are to go to for a grown-up style! Your legs will also look long thanks to the bell bottoms.)

Purple
03
フロスティーフレッシュ
(Frosty Fresh)
ハートバッグをチョイスすれば気分はルン×2♪まっ白パンツに合わせて元気いっぱいおどっちゃお!

(English Translation: You'll feel elated if you go for the heart bag♪ Coordinate it with a pair of pure white pants and dance joyfully!)

White
04
スキティッシュショート
(Skittish Short)
デニムパンツをおもいっきりみじかくカット!おてんばガールさくれつのショーパンコーデでアクティブに☆

(English Translation: Denim jeans cropped to the fullest! Be active in these shorts full of tomboy power☆)

Blue
05
アンカーキャプテン
(Anchor Captain)
あざやかグリーンのベルトがパッと目を引くショートパンツ。海が大好きな女の子ははきたくなっちゃうよね!

(English Translation: Short pants with a bright green belt to stand out. Sea loving girls would definitely want to wear this!)

Green
06
トニージュープ
(Tony Jupe)
キラっと光るファスナーがポイントだよ。レーシーベルトをくるっとまけばちょっぴり大人になった気分☆

(English Translation: This shiny bright fastener is the design point. Feels a little bit grown-up if you just wrap the lacy belt around☆)

Blue
07
ぺピーモーション
(Peppy Motion)
ピンクのひきしめラインで太めパンツもおまかせ!とくいのダンスもバッチリ決まっちゃうね。

(English Translation: Leave these plump pants to the thick pink lines! It'll perfectly look good in dynamic dances.)

White
08
ポイントレースパンツ
(Point Lace Pants)
カジュアルパンツだってレースを付ければおじょうひんになるよ☆アクセントはチェーンベルトで決まり!

(English Translation: Even casual pants can be elegant if you add the laces☆ Chain belt will be the perfect choice for the accent!)

Purple
09
メイプルスウェット
(Maple Sweat)
うごきやすいスウェットそざいでレッツダンス!メイプルリーフのステッチでげんきじるしのアクセント。

(English Translation: Make a dance move with this comfy sweatpants! The maple stitches really liven up the mood.)

Green
10
シェリープリーツ
(Shelly Pleats)
ポイントはみどりの太めベルト!しんじゅの貝がらみたいなプリーツスカートはとってもガーリー☆

(English Translation: This green plump belt is the accent! The pearl shell look from the pleated skirt is absolutely girlie☆)

Red
11
ナティースイッチン
(Natty Switchin')
2しゅるいのぬので作られたオシャレパンツだよ。明るめカラーがカジュアルスタイルにピッタリだね!

(English Translation: Stylish pants made from two kinds of cloth. These vivid colors are really perfect for a casual style!)

Yellow
12
ハートフィナンシェ
(Heart Financier)
ビスケットみたいなスリムラインにハートのアクセがキラリ☆クロップドパンツはシューズあわせであそんじゃお。

(English Translation: Sparkly heart-shaped accessory and slimline biscuit look☆ Take your time coordinating these cropped pants with shoes.)

Green