"近日公開!"

This Collection Article is incomplete! We will notify you when it is done! For now, please take a look at this article for the time being:

Version 1
Version 2
Version 5
Version 3 is the third card collection of Love and Berry Dress Up and Dance!. It is the half counterpart of the 2005 Autumn Collection. Other half being Version 4.
This collection was eventually re-released as Version 15 Classic with almost everything being the exact same except the card design. The theme heavily focuses on the new additional stage, Disco (which is available after second collection onwards). Hence, few disco compatible outfits have been added into the roster.
As usual, this introduces the first four types of cards:
Hair & Makeup Cards, which changes the character's hairstyle and, and may give them makeup depending on the card.
Dress Up Cards, which changes the character's outfit.
Footwear Cards, which changes the character's shoes.
Special Item Cards, which applies to the uncategorised cards that can buff (or nerf) Love or Berry's Dress Up Power in other ways that the above, such as Magical Time Plus, which adds more time.
Card design
Back
Version 3's background consists of Love and Berry posing side-by-side, with Love's right hand on her hips while her other hand is placed on the thigh and Berry's right hand is behind her head while the other hand is on her hips. For their signature outfits, Love wears Retro Pleats and Berry wears Sapphire Bell Bottoms. The black background is glamored with pink glares and sparkles.
Like the previous versions, "Made exclusively for LOVE AND BERRY by SEGA" is put on the top left corner, while the SEGA logo and "Ver 3" is put on the top right.
On the bottom, there is the Love and Berry Dress Up and Dance! logo, the link to the now defunct loveandberry.com and the warning of "Card surface may lose gloss from hand grease. In such instance, gently wipe the card with soft cloth." in case the card front loses its shine.
The barcode is on the east, just below the "Ver 3" symbol. It is colored blue with the background being transparent pink.
Version 15's card back is exactly the same, except with the fact that "Ver 3" is now replaced by "Ver 15 Classic."
Front
In Version 15 Classic, it uses a hologram of crystal shards.
This version uses the standard, small dot, gloss used in earlier versions of Love and Berry Dress Up and Dance!. The card is surrounded by a border that is colored depending on the card's type. The following possible colors are:
This version design is not an upgrade to the previous versions and has been modified to a disco motif.
Normal
In the center of the card reveals the card's appearance, surrounded by gemmed borders within the starry sparkles in shiny foil near the corner with corresponding colors to its card's type; not excluding the disco ball, card's type and initial, as well as the lucky color in shape of a star with gem outline that are affected as well.
To the east side is a vertical rainbow that reaches all the way from the top to the bottom, which has the card's name of a corresponding color within. Just the edge of the rainbow has the card's description.
The background is covered in shades of pink decorated with sparkles. Not for the last, the barcode is on the west as usual.
Disco
The layout is very much similar to the normal version minus the rainbow and a change of background with gradient consisting the lucky colors mixed in.
Official Checklist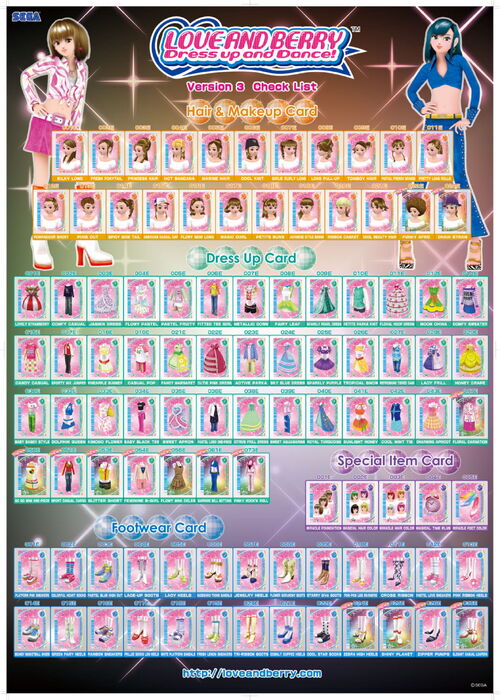 Cards
New Cards
Hair & Makeup Cards
#
Image
Name
Description
Lucky Color
22
100px
Funky Afro
70's inspired hairdo. Look soulful in an ultra funky dress☆
Yellow (Love)

Blue (Berry)

24
Chain Straw
Decorated pinch straw hat! Peek a flashy bandanna, and hip-hop flavor is complete☆
Purple
Dress Up Cards
#
Image
Name
Description
Lucky Color
47
100px
Retro Pleats
Go all out in a psychedelic print and waist hang skirt! Keep the lovely feel with pink.
White

Pink

50
100px
Go Go Mini One-Piece
One-piece dress with colorful patterns for an accent. Low waist belt balances the style well!
Red

Yellow

51
Sport Casual Cargo
Happy style with cargo pants and vivid top! Pockets on the bleached denims look very unique.
Red

Blue

53
100px
Glitter Short
Be an active girl in a tank x shorts! Put on some shiny, glossy items and you are ready to go!
Yellow

Black

54
100px
Feminine B-Girl
Pink makes an edgy jacket look super lovely♡ Inside color gives an awesome, distinct effect!
Pink

Blue

56
100px
Flowy Mini Celeb
Turn into a celeb in a wild leopard-print, one-piece dress! Be gorgeous with fur accessories♡
Yellow

Purple

61
Sapphire Bell Bottoms
Ultra funky velour bell bottoms☆ Be stylish with daring hairdo.
Blue

Yellow

73
Pinky Rock'n Roll
Be a rock star in the shocking pink logo suit☆ Pink x black coordination has a very grown-up feel.
Pink

Black
Footwear Cards
| # | Image | Name | Description | Lucky Color |
| --- | --- | --- | --- | --- |
| 24 | 100px | Zebra High Heels | Hip zebra patterns and gold chains are a striking look! | Black |
| 25 | | Shiny Planet | Appeal to your playful side with sharp red and white colors! Red ankle belts are working perfectly with the style. | Red |
| 26 | 100px | Zipper Pumps | Stylish denim pumps! Casual heels will make the pant style more feminine. | Blue |
| 35 | 100px | Elegant Casual Loafers | Stylish white x plum pointy-toed shoes look fabulous with pants☆ | Pink |
Returning Cards
Hair & Makeup Cards
#
Image
Name
Description
Lucky Color
01
Silky Long
All-around, classic hairdo. Be sophisticated with natural makeup!
Yellow (Love)

Blue (Berry)

02
100px
Fresh Ponytail
Fresh hairdo that matches the sporty style. Look trendy with bangs off to the side.
Yellow (Love)

Blue (Berry)

03
100px
Princess Hair
Put on a wonderful dress, and be the center of attention with this princess hairdo!
Yellow (Love)

Blue (Berry)

04
100px
Hot Bandana
Put on an edgy bandana, and complete the grown-up hair style! Can't miss the hair clips.
Yellow
05
100px
Marine Hair
Look clean and fresh with blue-toned makeup. Feel tropical with the long bangs off to the side and a ponytail on top!
Yellow (Love)

Blue (Berry)

06
100px
Cool Knit
Cool makeup looks perfect for the street vibe hairdo. A spiced-up logo on the hat matches well☆
Black
07
Girlie Curly Long
Look super cute with girlie long curls and airy pink makeup!
Yellow (Love) Blue (Berry)
08
100px
Long Pull-Up
Style perfect for going out. Volumize and part down the middle to look elegant.
Yellow (Love) Blue (Berry)
09
100px
Tomboy Hair
The top and bottom tails are key to lookin' cheerful. Put on orange blush and a little heart on the cheek to feel spunky.
Yellow (Love) Blue (Berry)
10
100px
Pigtail French Braids
Turn classic braids into French braids for a more clean style, perfect for framing the face line.
Yellow (Love) Blue (Berry)
11
100px
Pretty Long Rolls
Hairdo once was popular among ladies at palaces. Look dazzling in a dressy outfit!
Yellow (Love) Blue (Berry)
12
100px
Pompadour Short
Casual mode to the max with big pompadour and flipped hairdo! Looking not too boyish is just right.
Yellow (Love) Blue (Berry)
13
Pixie Cut
Perfect hairdo for a cool style. Look fresh with green-toned makeup!
Yellow (Love) Blue (Berry)
14
100px
Spicy Side Tail
Show off the forehead for grown-up appeal. Girlie curls tied on the side look very fab!
Yellow (Love) Blue (Berry)
15
American Casual Cap
Cap is a must-have item for the sporty style. Vibrant colors and 4 braids are lookin' ultra cool!!
Blue
16
100px
Flowy Semi Long
Be elegant with a flowy hairdo. This style is from a very famous movie.
Yellow (Love) Blue (Berry)
17
Magic Curl
Be everyone's idol with super cute doll curls and lovely pink makeup.
Yellow (Love) Blue (Berry)
18
100px
Petite Buns
Get the maximum girl power with cute round knots on the sides! Style made for a fun girl.
Yellow (Love) Blue (Berry)
19
100px
Japanese Style Bangs
Show off the eyes with short bangs! Hair tied to the side is also lookin' very in.
Yellow (Love)

Blue (Berry)

20
Ribbon Casket
Casket hat with pink ribbon on the back is one of the cutest! Flower pin is looking fabulous.
Green
21
100px
Cool Beauty Hair
Unique side flip hairdo. Put on some breezy green eyeshadows and go for the cool beauty look!
Yellow (Love)

Blue (Berry)
Dress Up Cards
#
Image
Name
Description
Lucky Color
01
Lovely Strawberry
Strawberry ribbon is super cute. Using bold colors is the key to standing out and turning heads.
White

Red

02
Comfy Casual
Long tee and demin for a comfy, casual look. Add a chain wallet for the punky trend!
Blue

Black

03
Jasmin Dress
Feminine power is up a notch with the flower design. Check out the asymmetric prints on the skirt!
Purple

White

04
100px
Flowy Pastel
Color festival, full of round polka dots! Airy silhouette gives a cute, pop feel.
White

Blue

05
100px
Pastel Fruity
Playful and cute look filled with pastel colors and lovely apple appliques!
Pink

Green

06
100px
Fitted Tee Girl
Casual boyish style with dazzling stars. Ribbon on waist can make the legs look long and slender.
Yellow

Black

07
100px
Metallic Down
Spice up with a metallic down vest! Simple, but huge logo tee is a must for this style.
Red

White

08
100px
Fairy Leaf
Feel like a fairy in this costume, with 2 tones of green and white.
Green

White

09
Sparkly Pearl Dress
High-impact pearly dress, with layered laces giving a grown-up look.
Green

Yellow

10
Petite Parka Knit
Cool grown-up style with parka x shorts. Knit on sleeves gives it a great design.
Green

Black

11
100px
Floral Hoop Dress
Feel like a garden princess with the lovely and precious flower prints!
Red

Green

12
Moon China
Look like an Asian girl in the China Mix dress. Moon and star accessories are a must.
Green

Red

14
100px
Comfy Sweater
Gal style is complete with an off-the-shoulder knit! Look more fashionable with glittering accessories.
Purple

Blue

15
100px
Candy Casual
This cute pop look is a popular style. More layers are fun and still flattering.
Pink

Yellow

17
100px
Sporty Mix Jumper
Stadium jumper is a must-have for sporty outerwear. Try some velour pants for a dancer look.
Black

Red

18
100px
Pineapple Summer
Feel like a beach girl in a deep v-tank with pineapple prints. Summer-style all the way with yellow colors!
Yellow

Green

19
100px
Casual Pop
Try to mix and match prints for a flashy, bold look! Character item is another style basic.
Red

White

21
100px
Fancy Margaret
Margarets and polka dots are the best match! For an even cuter look, don't forget the big ribbon.
Yellow

White

22
100px
Cutie Pink Dress
Girl's fav, lovely ribbon dress. Full of sweetness with many frills!
Pink

White

23
100px
Active Parka
Big hit, simple colored parka. Complete the playful, tomboy look with baggy half pants!
Pink

Blue

24
100px
Sky Blue Dress
Sweet colored, going out dress. Long ribbon is for a more sophisticated look.
Blue

Pink

25
100px
Sparkly Purple
Look like a star in lame x purple! Accentuate the style with the green belt.
Purple

Green

26
100px
Tropical Snow
Shine in bold colors! And look sharp with the red waist belt.
Yellow

Red

27
100px
Refreshing Tiered Cami
Look fresh in a camis and polka dots! Be girlie with rolled up denims.
Blue

Yellow

28
100px
Lacy Frill
Narrow ribbon and elaborate lace for a tiny princess look. 3 layered frills on the sides are an important part of the design.
Purple

Black

29
100px
Honey Drape
Volumize with full drapes! Flaunt your look in bright colors.
Yellow

Red

30
100px
Baby Baggy Style
Draw attention with a loud baby tee and baggy pants. Scrunched up pants go perfect with an accent belt!
White

Green

32
100px
Dolphin Queen
Vivid, 2-tone colors are the key to this look! Feel like a marine queen with the dolphin logo.
Blue

Black

33
100px
Kimono Flower
Japanese flavor with yellow kimono sash. Full of cuteness with retro flowers x a gorgeous pink color.
Pink

Yellow

34
100px
Baby Black Tee
Ready for some dancing with a small black tee. Slim jersey pants with flares will make your legs look longer.
Black

Pink

35
100px
Sweet Apron
All-out love power with an apron dress! Be fresh x cute in pink and light blue plaid.
Pink

Blue

36
100px
Pastel Logo One Piece
Grown-up mode with white jacket x black mini one-piece dress. Denims look lovely with the dress as well.
White

Purple

38
100px
Citrus Frill Dress
Frill dress in gentle green color. Look extra elegant with glossy fabric and jewelry.
Green

Yellow

39
100px
Sweet Aquamarine
Asymmetric pink frills are looking super cute! Feel like a mermaid with seashell accessories and pearls!
Purple

Blue

40
100px
Royal Turquoise
Become a lady in this grown-up looking, sleek dress, full of roses!
Blue

Green

41
100px
Sunlight Honey
Grab everyone's attention in this bright orange outfit. Hibiscus flower on the waist gets the style across.
Red

Yellow

42
Cool Mint Tie
Look sharp with a diamond tie! Combo with a mini-skirt is also cute.
Blue

Green

43
100px
Charming Apricot
Tube top with a big ribbon is looking fun and cute! Checker skirt and pink laces are stylish.
Pink

Yellow
Footwear Cards
| # | Image | Name | Description | Lucky Color |
| --- | --- | --- | --- | --- |
| 01 | | Platform Pink Sneakers | Loose socks and platform sneakers are the best combination. Match the colors to make your legs look longer! | Pink |
| 02 | 100px | Colorful Heart Socks | Mix-and-matching colorful socks are a fashion basic for footwear. Match the hearts and look adorable! | Red |
| 03 | 100px | Pastel Blue High Cut | With high-cut sneakers, grab attention by flipping to show the inside Pastel colors x checkered pattern are stylin'. | Blue |
| 04 | 100px | Lace-Up Boots | With narrow heels, the grown-up style is effortless! Match a mini-skirt for a cool look! | White |
| 05 | 100px | Lacy Heels | Chic sandals with lace straps. Turn into a lady in glossy satin x gold! | Green |
| 06 | | Nadeshiko Thong Sandals | Make a huge impact with Asian thong sandals! Wrap ribbons around the ankles for a slender effect! | Yellow |
| 07 | 100px | Jewelry Heels | These gorgeous heels are perfect for a party! Multi-colored gems are looking super striking. | Blue |
| 08 | 100px | Flower Scrunchy Boots | Scrunched boots with adorable flower prints! Match with an elegant style to look trendy in sweet and spicy mix. | Yellow |
| 09 | 100px | Starry Diva Boots | Sporty, yet feminine boots named after a famous movie star. | Blue |
| 10 | 100px | Pom-Pom Leg Warmers | Leg warmers with cute and airy pom-poms, perfect for the girlie style. | Yellow |
| 11 | 100px | Cross Ribbon | Crossed ribbons and diamonds look super flashy. Match them with a mature style. | Purple |
| 12 | 100px | Pastel Love Sneakers | Cute, pink checkered sneakers. Appeal your girlie side with the heart logos. | Pink |
| 13 | 100px | Pink Ribbon Heels | White heels with 2 pink ribbons. Ultra cute fashion items! | Pink |
| 14 | 100px | Bouncy Basketball Shoes | Basketball sneakers for the ultimate sporty style! Blue and orange combo looks awesome! | Black |
| 15 | | Green Fairy Heels | Check out the fairy flowy leg warmers! Pointy white heels are the cutest match. | Green |
| 16 | 100px | Rainbow Sneakers | Be sporty with colorful socks. Give a fashionable touch with star shoe laces! | Purple |
| 17 | 100px | Frilled Socks Low Heels | Ribbon heels and lace socks are adorable to the max. A lovely style in red! | Red |
| 18 | 100px | White Platform Sandals | Perfect footwear style with layered border socks and leg warmers! | Purple |
| 19 | 100px | Fresh Lemon Sneakers | Style up with lemon and fresh green colored sneakers. Achieve a long silhouette with vertical striped sporty socks! | Yellow |
| 20 | | Tri-Ribbon Boots | Boots with pretty decorations! 3 ribbons and pearly anklets look very stylish! | Yellow |
| 21 | 100px | Cobalt Cuffed Heels | High heels with ankle cuffs as an accent! Fresh blue is giving both a cute and cool feel! | Blue |
| 22 | 100px | Cool Star Socks | Simple low sneakers are the must item for a casual style. Socks give it a colorful, starry accent! | Blue |
Special Item Cards
#
Image
Name
Description
Lucky Color
01
100px
Miracle Foundation
Miracle Card for skin tone change. Going for gal style look or girlie look?
Black

White Yellow

02
100px
Magical Hair Color
Magical Card for hair color change. Which color would you pick for your style?
Green

Black Purple Yellow

03
Miracle Hair Color
Miracle Card for hair color change. Which color is the best match for your look?
Red

White Yellow Pink

04
100px
Magical Time Plus
This Magical Card extends the dress up time. Take time to finish up your look and receive more points!
Pink
05
100px
Miracle Foot Color
Miracle Card for shoe color change. Wait and see which color the shoes will switch to.
???
Removed Cards
Dress Up Cards
#
Image
Name
Description
Lucky Color
13
Cool Rainbow
Look active in the multi-colored design! Add bold colors to the off-the-shoulder style for a healthy look!
Yellow

White

16
Baggy Overall
Overalls look more trendy in a baggy size! Waist belt is an important item for this style.
Yellow

Blue

31
Vitamin Girl
Be full of life in vitamin colors! Strawberry patch on top adds cuteness to the design.
White

Red
Community content is available under
CC-BY-SA
unless otherwise noted.